L'Irlande se noit dans un verre de Guinness
Discussion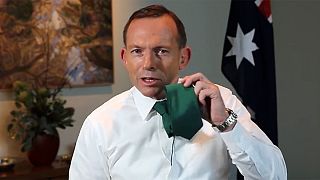 La Guinness, objet d'un mini incident diplomatique entre Canberra et Dublin: le Premier ministre irlandais s'est senti très offensé par le message de son homologue australien. Tony Abbot a enregistré une vidéo à l'occasion de la Saint Patrick, la fête des Irlandais, le 17 mars. Une date célébrée dans le monde entier, du fait notamment de l'émigration irlandaise à la moitié du XIXe siècle.
Et donc, jusqu'en Australie.
Pendant plus d'une minute, Tony Abbott explique l'importance de cette fête en montrant sa cravate verte. Avec un petit clin d'oeil aux écologistes de son pays :
"It's safe to say that this is the one day of the year when it's good to be green", traduisez : "on peut dire que c'est le seul jour de l'année où il est bon d'être vert".
Puis il explique que les Anglais ont créé les lois, les Ecossais la monnaie et les Irlandais les chansons.
Avant de conclure qu'il regrette de ne pas pouvoir boire une, deux ou trois Guinness avec les Irlandais. Et c'est cela qui a déplu à Enda Kenny, le dirigeant centriste. Assimiler les Irlandais à des buveurs de Guinness, ça suffit ! Le Premier ministre irlandais considère que ses compatriotes en Australie pourront tout à fait fêter la Saint Patrick de "manière responsable".
Sur Twitter les commentaires vont bon train pour condamner les propos de Tony Abbott.
Reste à savoir si une Saint Patrick sans bière, c'est tout à fait une Saint Patrick !
He's like an embarrassing uncle! HT #Abbott criticised by #Irish leader for #StPatricksDay video http://t.co/TNlepx7caN via ABCNews</a></p>&mdash; Robert Fairhead (tallandtrue) March 17, 2015
Just watched #Abbott's #StPatricksDay vid. As an Irishman who calls Australia home I invite Mr. Abbott to shove his green tie up his arse.

— Vacay Dent (@DentDerek) March 17, 2015
On this #StPatricksDay let's all take a minute of silence to remember that national embarrassment that was #Abbott's #greentie message.

— Kamna मुद्दगौनी (@kamnamuddagouni) March 16, 2015
About TonyAbbottMHR</a> .Sorry Irish people. Understand that 1/most of us think he&#39;s a dickhead 2/he&#39;s English. <a href="https://twitter.com/hashtag/Abbott?src=hash">#Abbott</a> <a href="https://twitter.com/hashtag/StPatricksDay?src=hash">#StPatricksDay</a> <a href="https://twitter.com/hashtag/auspol?src=hash">#auspol</a></p>&mdash; Baroness Barbara (barbwodecki) March 12, 2015
To all Australians of Irish ancestry (including yours truly), a very happy #StPatricksDay to you all. K

— Kevin Rudd (@MrKRudd) March 17, 2015
Thanks for plugging us, Tones :) begley_patrick</a> <a href="http://t.co/K2oV4zxbal">http://t.co/K2oV4zxbal</a> <a href="https://twitter.com/hashtag/StPatricksDay?src=hash">#StPatricksDay</a> <a href="http://t.co/btj1HALWax">pic.twitter.com/btj1HALWax</a></p>&mdash; Greens NSW (GreensNSW) March 17, 2015