Embargo sur les importations de gaz et de pétrole russes aux Etats-Unis
Discussion
Par Euronews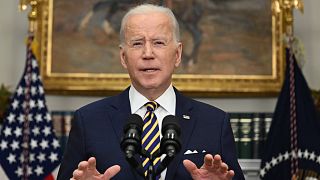 -
**Retrouvez ci-dessous, le déroulé de ce  8 mars, treizième jour de la guerre en Ukraine. Tout au long de cette journée, nous avons proposé de suivre en direct les derniers développements de la situation sur le terrain, ainsi que les conséquences de l'invasion russe au niveau international. **
08.03.2022
11:48
Les informations à retenir ce mardi 8 mars :
Le président Joe Biden ordonne un embargo sur les importations de pétrole et le gaz russe aux Etats-Unis.
De son côté, l'Union européenne cherche à mettre un terme à sa dépendance au gaz russe
L'UNHCR annonce que plus de 2 millions de personnes ont fuit l'Ukraine depuis le début du conflit
Des civils ont commencé à être évacué de la Ville de Soumy, dans le nord-est de l'Ukraine.
21 personnes ont trouvé la mort dans un bombardement russe en tentant de fuir cette même ville de Soumy ce lundi soir
Une responsable ukrainienne a assuré que trois adultes ont été tués dans l'explosion d'une mine antipersonnel
Dans une allocution retransmise en direct devant la Chambre des communes au Royaume-Uni, le président ukrainien Volodymyr Zelensky a déclaré ""Nous nous battrons jusqu'au bout", invoquant Churchill dans son discours
Un haut responsable du Pentagone a estimé qu'entre "2.000 à 4.000" soldats russes étaient morts depuis le début de l'invasion, précisant que cette estimation était à prendre avec prudence.
Sur le terrain militaire : le centre de Kharkiv n'est plus que ruines. La ville est encerclée mais toujours aux mains des troupes ukrainiennes. La ligne de front à Kyiv se trouverait désormais à une vingtaine de km de la capitale. L'ouest du pays reste pour l'instant épargné par les combats.
08.03.2022
20:00
Nous allons mettre un terme à notre couverture en direct. Retrouvez-nous demain matin.
08.03.2022
19:15
Ce mardi, après d'autres firmes occidentales, c'est au tour de McDonald's de "
condamner l'agression et la violence
" après l'invasion russe en Ukraine. La chaîne de restauration rapide américaine a donc indiqué, 
dans un communiqué publié sur son site corporate
, qu'elle avait décidé "
de fermer temporairement ses restaurants en Russie
" et "
de mettre en pause ses activités
" dans ce pays.
 McDonald's possède 850 restaurants et emploie 62 000 personnes en Russie. Ces derniers continueront à recevoir le salaire a assuré le groupe dans son communiqué.  
08.03.2022
18:48
Les députés britanniques ont accueilli par une ovation debout (11min et 10s sur la vidéo ci-dessous) une intervention par visio-conférence du président ukrainien Volodymyr Zelensky au Parlement de Westminster ce mardi.
"Nous nous battrons jusqu'au bout", a déclaré mardi devant la Chambre des communes  parlement britannique Volodymyr Zelensky, invoquant Churchill.
L'intervention du président ukrainien, qualifiée d'"historique" par le président de la chambre Lindsay Hoyle, est rarissime pour un chef d'Etat étranger. 
08.03.2022
18:39
Élément d'importance, ce musée se trouve en face de l'embrassade russe en Lettonie.
08.03.2022
18:07
En 2020, selon l'agence américaine sur l'énergie, le pétrole russe représentait
7% des importations
de pétrole des Etats-Unis.
Et selon cette même source,
Washington n'importe pas de gaz naturel russe
. Ce qui n'est pas le cas de l'Union européenne où 40% des importations proviennent de cette source d'approvisionnement. Des pays comme l'Allemagne sont encore plus dépendants, comme l'Allemagne où plus de 50% des importations de gaz proviennent de Russie.  
08.03.2022
16:51
Le président chinois Xi Jinping a appelé ce mardi à "la plus grande retenue" dans le conflit ukrainien lors d'un appel avec les dirigeants français Emmanuel Macron et allemand Olaf Scholz, a rapporté la télévision chinoise.
La Chine, qui garde de bonnes relations avec Moscou, s'est jusqu'à présent refusée à parler d'invasion de l'Ukraine et s'est contentée de "regretter" le conflit dans ce pays, tout en disant "comprendre" les préoccupations russes en matière de sécurité.
Mais lors de entretien en visioconférence avec MM. Macron et Scholz, l'homme fort de Pékin a assuré que la Chine était "profondément peinée d'assister à une nouvelle guerre sur le continent européen", selon des propos rapportés par la télévision publique CCTV.
"Nous souhaitons appeler à la plus grande retenue afin d'éviter une crise humanitaire à grande échelle", a-t-il ajouté, sans dénoncer pour autant l'offensive lancée le 24 février par le président russe Vladimir Poutine contre son voisin.
Il a dit à ses interlocuteurs "apprécier les efforts de la France et de l'Allemagne afin d'agir comme médiateurs en Ukraine" et assuré que Pékin était prêt lui aussi à jouer "un rôle actif".
"Nous devons soutenir ensemble les pourparlers de paix entre la Russie et l'Ukraine", a-t-il plaidé, alors que trois sessions de négociations au Belarus n'ont pour l'heure pas mis fin à la guerre.
La Chine "se tient prête à apporter une aide humanitaire à l'Ukraine", a-t-il promis.
08.03.2022
16:45
Aux Etats-Unis, un haut responsable du Pentagone a estimé que "2 000 à 4 000" soldats russes sont morts en Ukraine depuis le début de l'invasion..
S'exprimant devant une commission du Congrès, le lieutenant général Scott Berrier, à la tête de l'Agence américaine du renseignement de la Défense, a précisé que cette estimation approximative était à prendre avec prudence.
08.03.2022
16:37
Joe Biden, le président des Etats-Unis, est en train de s'exprimer
Le locataire de la Maison-Blanche vient d'annoncer une interdiction des importations de pétrole et de gaz russes aux Etats-Unis. Cette mesure a été décidée "en coordination étroite" avec les alliés des Etats-Unis a ajouté Joe Biden.
NEW – the UK will phase out the import of Russian oil and oil products by the end of 2022.

This transition will give the market, businesses and supply chains more than enough time to replace Russian imports – which make up 8% of UK demand.

(1/4)

— Kwasi Kwarteng (@KwasiKwarteng) March 8, 2022
Quelques minutes avant l'annonce du président des Etats-Unis, le ministre britannique des Entreprises et de l'énergie, Kwasi Kwarteng, avait annoncé sur Twitter que le Royaume-Uni allait également arrêter d'ici fin 2022 les importations de brut et produits pétroliers russes.